Star Wars: The Force Awakens
The Short- Hearkening back to the original trilogy, J.J. Abrams has created a proper reintroduction to the Star Wars universe. Written with just enough of that Star Wars cheesiness, loads of humor and an excellent cast all give the Force Awakens a good mix of new and nostalgia. Daisy Ridley, and Oscar Isaac are excellent additions to the universe and Harrison Ford is back to form as the legendary Han Solo. The Force Awakens rises above the years of hype and delivers a pleasing, nearly perfect experience for fans.
After a long, anxiety driven wait fans were finally given their first look at Star Wars The Force Awakens. The new universe brought to you by J.J. Abrams and like he did with Star Trek, Abrams who directed the film as well as wrote the script with Star Wars legend Lawrence Kasdan brings back most of your original trilogy favorites while introducing us to a new group of soon to be Star Wars Legends. 
The Force Awakens follows Rey(Daisy Ridley) a scavenger with a mysterious past, Finn who is a reluctant Storm Trooper looking to find out where he really belongs in the galaxy and crack pilot Poe Dameron (Oscar Isaac) who is on a mission to find the whereabouts of Luke Skywalker. The First Order is the new threat in the galaxy as they are looking to deliver the final blow to the rebellion by finding the droid that contains the whereabouts of Luke Skywalker then destroying Skywalker who has vanished. The First Order is led by Kylo Ren(Adam Driver) who also has a somewhat mysterious past but you can find more on him in our spoiler section. The Force Awakens is not as complicated as it may seem but a lot of characters have to come together before this movie gets into it's climax and the first 45 or so minutes are all about Rey, Poe, and Finn. The Force Awakens has more then enough nostalgic moments but it is at it's best when Rey and Finn finally meet Han and Chewie who find Rey and Finn in possession of Millennium Falcon and running away with BB-8, the droid that has the biggest clue to the whereabouts of Luke Skywalker. 
Daisy Ridley is probably the best of the new additions to Star Wars as the down right awesome Rey who is introduced to us as someone who is been handling herself for quite a while, and Ridley who looks and sounds A LOT like Keira Knightley is in nearly every moment of The Force Awakens and Ridley is wonderful in the emotional role. Oscar Isaac who has taken a really interesting trip in order to join this cast, following an award nominated role in Inside Llewyn Davis, Isaac starred alongside his Star Wars Costar Domhnall Gleeson in one of the better movies of 2015 Ex Machina. Isaac plays a bad ass fighter pilot and while he is missing for part of the middle of this film Dameron is set up to be a key member of this cast for the long term. Returning to his role as Han Solo, Harrison Ford also returns to form, it's one of if not his best performance in years as that scruffy looking, nerf herding pirate. Ford is given a lot more room to roam around then his former co-stars and he delivers his lines with the exact attitude you would expect from Han Solo who is now away from Leia and working again as a Smuggler with Chewie. As for Leia, there are a few really great moments between Carrie Fisher and Ford and Fisher and Ridley but Leia is not given as much to do as you'd expect and most of her role is put toward the background. Finn is played by John Boyega (Attack The Block) who is really one of the better aspects of the film, Rey, Poe and Finn are all given some really memorable moments while Poe Dameron gets some of the more memorable funny moments Finn isn't far behind.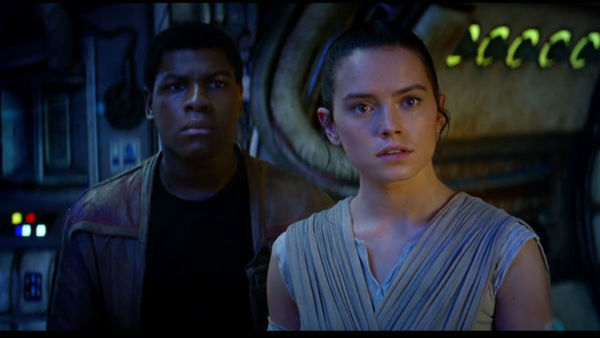 IF YOU ARE STILL READING AND HAVE YET TO SEE THE FORCE AWAKENS PLEASE SKIP THE BLANK SECTION, IF YOU WOULD LIKE TO READ IT PLEASE HIGHLIGHT IT WITH YOUR MOUSE
So we are in a safe spot lets talk about the major moments of Star Wars first with the identity of Kylo Ren. We find out a little less then half way through the movie that Ren is actually the son of Leia and Han. Getting a lot of his mothers genes, Ren becomes a student of Luke Skywalker but we are told that he also has a lot of his Grandfather in him and after he breaks and kills Skywalker's other students he goes to the First Order and the dark side.In the most pivotal moment after breaking into the new Deathstar a planet sized battle station named Starkiller base, the base has more power then the Deathstar and that power comes from draining stars. Han comes face to face with Ren. Ren who has spent the entire movie being tempted from the light, asks his father for one favor then proceeds to kill Han Solo. It's the most emotional moment of the film and both Ford and Adam Driver(Who will now be known as the guy who killed Han Solo) play it perfectly. It's sad to see Han go especially because Ford is so good in the Force Awakens but since our heroes need that kick into the films finale it works perfectly within Abrams story. The other major revelation in the films final half is that Rey has a direct connection to the force, she senses Lukes light saber in Maz Kanata's Cantina and then begins a somewhat absurd discovery of her powers as she talks a storm trooper(A now denied cameo by Daniel Craig but after 2 viewings I am 99% sure that the Storm Trooper is in fact Daniel Craig) into letting her free. With Finn in possession of Lukes Light saber he takes on Kylo Ren, after getting nearly killed Ren goes to take Lukes lightsaber but using the force Rey claims lukes saber for her own then going head to head with Kylo Ren. The biggest question mark left for Star Wars Episode 8 (Being written and Directed by indie helmer Rian Johnson and Set for May 2017) is who Rey is. Is she Lukes daughter? How does she fit into the timeline? How are her powers this strong? Once the battle for Star Killer base is won, and Luke Skywalker's location is revealed, Rey says goodbye for now to a comatose but alive Finn and goes to meet Skywalker with Chewie and R2-D2. Luke is alive and alone on a beautiful planet that looks a lot like the Irish coast, and the film ends as Rey approaches a bearded Mark Hamill. No words are said and the film ends as an emotional Rey hands Skywalker his Light Saber. It's a wonderful scene and sets up Episode 8 which is set to be delivered to the world May 2017. Ok so we got through the major plot points but lets talk about Reys awakening into the force, the scene in the basement of Maz Kanata's Cantina has 2-3 major voice appearances. The most noticeable is that of Yoda, but it has also been revealed thanks to twitter that Ewan McGregor lent his voice to the scene as Obi Wan Kenobi and you can in fact hear Mark Hamill utter his only lines of the entire film. It its notable that Lucasfilm head Kathleen Kennedy admitted that Hamill had already shot some of those scenes with Rey before filming wrapped on The Force Awakens. In the scene you can hear a voice say "Walk Your First Steps"(Or a version of the same phrase) this is not only a hint at the films final scene but at Rey coming under the tutelage of Luke Skywalker. The biggest discussion going on after the film is Who is Rey actually related too? Is she a decendant of old Ben Kenobi? or is she the child of Luke Skywalker? It will be very interesting to find out more about Rey especially in the opening moments of Star Wars Episode 8.  
Star Wars The Force Awakens will end up being the highest grossing film in History, It's on its way to $3 billion(with a B)  world wide and every day it breaks long standing records at the Box office. It will be criticized by some for being self indulgent, overlong, too nostalgic or cheesy. It's those things that keep us going to the theater though, Nostalgia is an important thing and it's no more or less nostalgic for fans of Star Wars as Abrams first Star Trek was for Trekkies. It has it's cheesy moment but unlike the 3 Lucas directed prequels it never goes over the top. Abrams tells his story and leaves plenty of questions unanswered but in the process he has created the Star Wars we have dreamed about for 30 years. Even in a Galaxy Far Far Away, Star Wars The Force Awakens is still the most fun you will have at the movies this year. 
Grade-A+
Comments
Leave a Reply