Muppets Most Wanted
The Short- In the opening number "We're doing a Sequel" Kermit and the gang remind us  "Everybody knows that the sequel's never quite as good", which is exactly the case for Muppets Most Wanted. Bret McKenzie's songs are still catchy, the comedy remains perfect for kids and adults alike and the cameos are fantastic. Yet Most Wanted lacks just a slight amount of the magic that made The Muppets 2011 return such an instant classic.
The Muppets glorious return to the silver screen in 2011 was one of the most enjoyable movie watching experiences of that year. The music was excellent (and Oscar winning) and the script by Jason Segel and Nick Stoller was fantastic. I wondered if their was anyway to top it especially after Segel left before the sequel got off the ground. Instead of replacing the star and screen writer they moved on without him with director James Bobin back at the helm and Stoller and Bobin responsible for writing the script.
The MVP of the first film I considered a tie between Segel and Oscar winning song writer and Flight of The Concords star Bret McKenzie. McKenzie's songs are the most memorable part of both films. They are gleefully written with plenty of fun pop culture references and tongue in cheek jokes that make The Muppets movies so fun. Whether it's the opening number with lines "Everybody knows that the sequel's never quite as good" or "at least we know it's better then godfather 3" McKenzie sets up the entire film. It's a Muppets movie so you know you can expect plenty of cameos that include Lady Gaga, Tony Bennett, Chole Moretz, Sean Combs, James McAvoy,  Salma Hayek, Tom Hiddelston, Toby Jones, Zach Galifinakis, Rob Cordry, Hugh Bonneville, Tom Hollander, Saoirse Ronan and more. Some of the cameos are very brief, others steal each scene like Frank Langella as a priest, Usher plays an usher, the strange Celine Dion and Miss Piggy duet, Til Schweiger as a German cop, Danny Trejo plays Danny Trejo as a prison inmate, Stanley Tucci is a trigger happy guard, Josh Groban plays a maximum security inmate who we only hear until the end of the film. The cameos are plentiful and are really made more for adults then the kids who will enjoy the humor and the music more then the parents will. (I enjoyed both)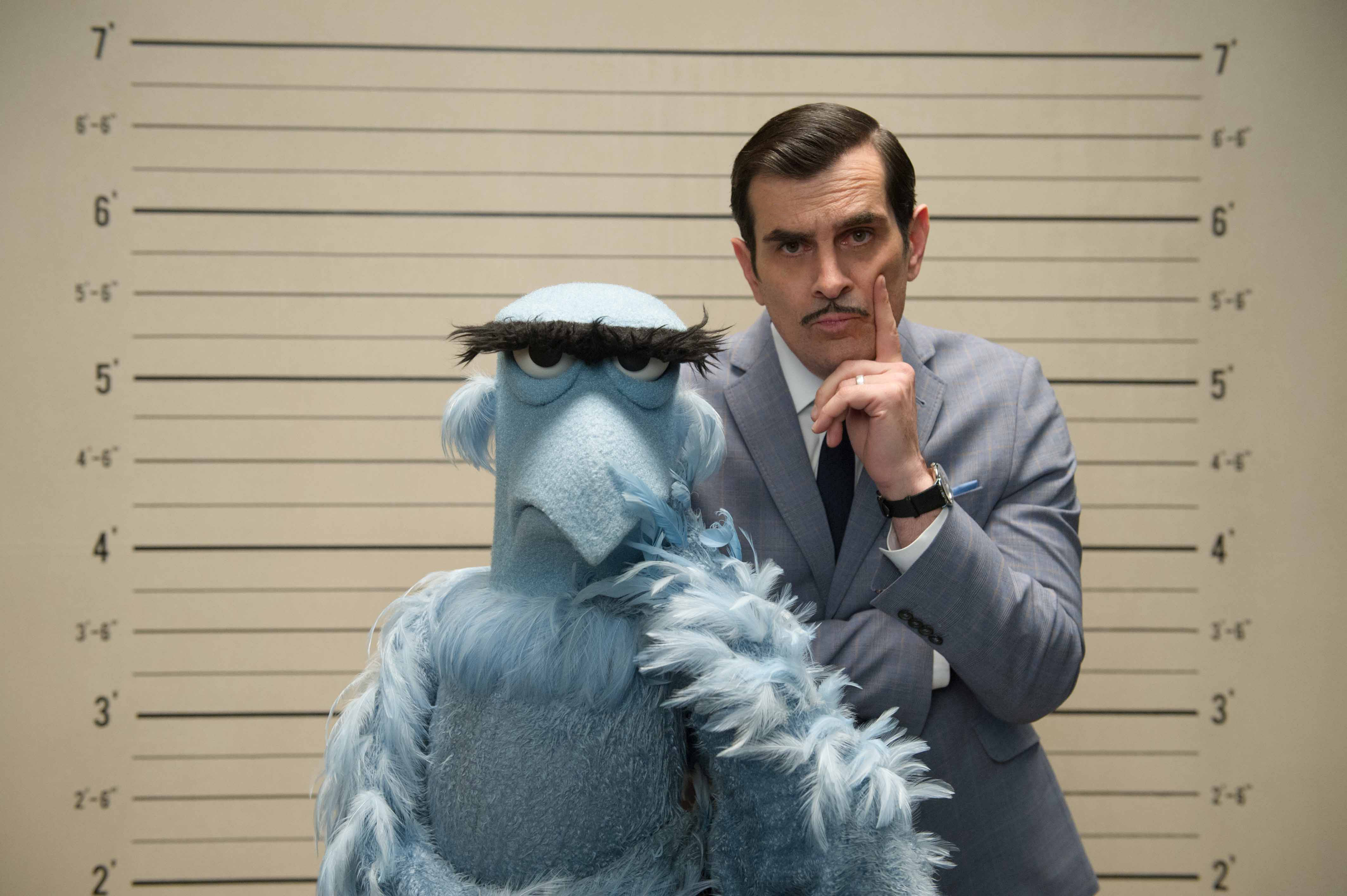 Now that we are done talking cameos in Muppets Most Wanted, the movie actually has a few lead actors (besides The Muppets) including Ricky Gervais, Ty Burrell, and Tina Fey whom lead the cast along with funny appearances from Ray Liotta and Jermaine Clement as prison inmates who have just a few more lines than the more notable cameos. Gervais is the lead and also the bad guy as criminal/Touring agent Dominic Badguy (pronounced Bahdgee), Dominic convinces the Muppets to go on a world tour which is a front for multiple heists. While in Germany Badguy replaces Kermit with criminal mastermind and Kermit lookalike Constantine. Once Kermit is framed and sent to a Siberian gulag he meets Nadia (Fey) a prison guard who also has a bit of a Kermit obsession. Once Kermit is replaced with Constantine the Muppets travel the world as Dominic and Constantine pull off heists on conveniently placed museums and banks right next to the massive (very similar looking) performance halls in famous cities. Dominic and Constantine allow the rest of the muppets free reign on what they do during the shows which has everything from five Celine Dion covers by miss piggy and gonzo's indoor running of the bulls. The scenes with Constantine are funny and the scenes with Kermit in the gulag are fantastic with Fey and others giving goofy performances. My favorite plot line in Muppets Most Wanted was between Sam The Eagle and Ty Burrell's ridiculous French Interpol agent Jean Pierre Napoleon. As they investigate the mysterious heists and playing off European stereotypes Jean Pierre and Sam have the funniest storyline of the film which is mostly thanks to Burrell's hilarious performance.
The issue I had with Muppets Most Wanted is actually a pretty simple one, The Muppets was such a great, joyous film that anything they even attempted to do would not be as good by comparison. The songs are not as catchy, the plot is not as funny, and the story lacks just a slight bit of that whimsy from the first film. All that being said it's still a very fun movie and well it's the Muppets! If you like the Muppets, you won't go wrong seeing Muppets Most Wanted.
Grade-A-
Comments
Posted by
James
on
Mar 28th, 2014
I've always been a fan of the Muppets and dearly miss Jim Henson. I can't wait to see this film.
Posted by
Komal
on
Mar 13th, 2015
I have realized some new potins from your website about pcs. Another thing I've always imagined is that computer systems have become a specific thing that each family must have for a lot of reasons. They offer convenient ways in which to organize households, pay bills, go shopping, study, tune in to music and perhaps watch tv series. An innovative strategy to complete every one of these tasks is with a laptop computer. These pcs are mobile, small, effective and lightweight.
Posted by
Cleber
on
Mar 13th, 2015
I differ with most pelpoe here; I found this blog post I couldn't stop until I finished, even though it wasn't just what I had been searching for, was still a nice read though. I will instantly get your blog feed to stay in touch of any updates.
Posted by
David
on
Mar 18th, 2015
Perhaps there is some thing not right with the site? The images on the tmosopt look a little messed up. Nice blog post nevertheless, continue the great work you are doing here! http://orkypopymp.com [url=http://rojgazfyx.com]rojgazfyx[/url] [link=http://xevieb.com]xevieb[/link]
Posted by
Gennaro
on
Mar 18th, 2015
What I think is you shloud use spell check and raeerd your writing before posting it might help make this make more sense. But maybe not
Posted by
Bibiana
on
Mar 18th, 2015
I simply wanetd to develop a simple note so as to express gratitude to you for some of the superb guides you are sharing on this website. My considerable internet research has finally been compensated with reliable facts to exchange with my great friends. I d believe that most of us visitors are truly fortunate to live in a perfect community with very many awesome professionals with insightful methods. I feel really lucky to have encountered your entire weblog and look forward to really more cool moments reading here. Thanks a lot once again for a lot of things. http://nyosywj.com [url=http://onjpmojayq.com]onjpmojayq[/url] [link=http://acilwqt.com]acilwqt[/link]
Leave a Reply