The Equalizer
The Short- Even though it is overlong and the first 30 minutes are almost totally without action The Equalizer brings Denzel Washington into his most badass role since Man on Fire. The Equalizer may lack the brilliance of Training Day but once it gets going it is incredibly entertaining.
The Last time Denzel Washington and Antoine Fuqua worked together Washington took home his second Oscar. That was 2001's Training Day, since then Fuqua has sputtered with such films as Shooter, King Arthur and Olympus has fallen. The Equalizer is the best movie the director has made since 2001 and it's almost all thanks to the work by Denzel Washington, Chloe Grace Moretz and lifetime member of the Russian villain club Martin Csokas. Based on the TV series starring Edward Woodward from 1985-1989, The Equalizer follows Robert McCall, a quiet man living in Boston, who spends his days working at a home improvement store and his nights reading at a diner. His daily sessions put him in contact with Teri( Moretz), a call girl working hard to find a new life for herself but instead finds herself under the ownership of Slavi (David Meunier) who has Teri beaten within an inch of her life following an altercation between her and a client. Teri and Robert had a relationship always seeing each other every night at the same diner, so when he finds out his friend had been beaten he bursts into action. McCall's past remains fuzzy for almost the entire film, but he gets on the bad side of the Russian mob in Boston after wiping out the money makers for a Russian mobster he is pitted against a sociopathic fixer named Teddy (Martin Csokas).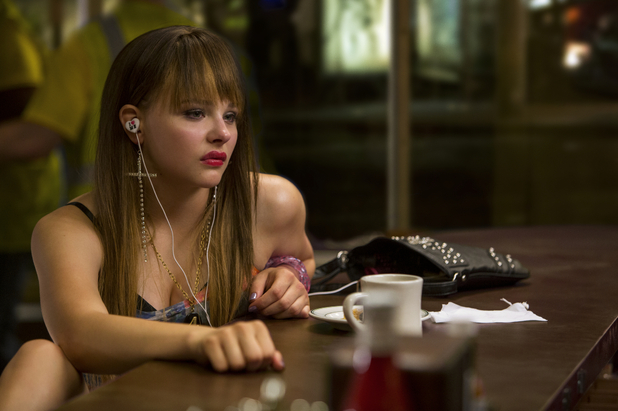 The movie works very hard in the first half hour to get the point across the McCall is a not so normal man working very hard to leave his violent past behind him. He never sleeps, has loving relationships with his co-workers and is a loyal friend to Teri. The buildup in the films first act seemingly takes forever even though it's some of Washington's best work in The Equalizers +2 hour runtime. Fuqua builds up the violence so much that once we finally get to see Washington take out 5 mobsters in 16 seconds it's a relief. The Equalizer takes advantage of it's the star power of Washington even if the final result is disappointing for fans of Moretz who is more than able to carry a role for a full film after the first act she isn't seen again till the final 10 minutes. It is mind-blowing how little she is utilized, especially as Teddy's main purpose is to seek her out, he finds McCall easy enough but never Teri. Where The Equalizer prevails is in its action, it promises a particularly brutal portion of violence and for that it delivers in spades, in fact you will never walk around your local Home Depot or Lowes the same again. It sets up McCall as a fixer for his friends, a vigilante who gives equal beatings to dirty cops and mobsters and becomes the guy that made the show popular in the 1980's. Similar style to the show Burn Notice, a former government agent with a particular set of skills, it is almost shocking this movie isn't starring Liam Neeson.  
The cast is led by Denzel and Moretz but includes some decent supporting roles, Even though he has become typecast as lead Russian villain, Martin Csokas provides a quiet insanity to his character, an attempt to give a Javier Bardem from No Country For Old Men type performance may fall leagues short but he still provides the villainy necessary for a movie where the protagonist is a mix of James Bond and Macgyver. Oscar Nominee Melissa Leo and Bill Pullman have a very quick appearance as two former co-workers of McCall's, government types whose job titles are never revealed. They don't get enough time on screen but there appearance is the helpful push the movie needs to get it to the films climactic warehouse faceoff.
The Equalizer may drag, it may underutilize the rising star of Chloe Grace Moretz but if you go to see Denzel Kick serious ass for an hour and a half of its 2 hour and 10 minute run time then you will not be disappointed. Fuqua uses his action movie background to give us the violence and Washington carries the film the rest of the way.
Grade- B
Comments
Leave a Reply