Begin Again
Short- The first big film from Once director John Carney since 2006, Begin Again is brought together by the best performance of the career of Keira Knightley as well as another award worthy performance from Mark Ruffalo. The real champion of Begin Again besides the beautiful acting is the music,  Maroon 5 front man Adam Levine lends his voice to a number of the original songs but it is Knightley whose impressive voice gives Begin Again its soul.
In 2006, director John Carney brought us Once, which became a hit and even won an Oscar for it's fantastic music. The music would be one of the reasons it would get second life on Broadway as a musical. Now in his first major motion picture since (he has done a number of much smaller indie films in the years prior) John Carney returns to the musical roots for Begin Again, the story of Greta and Dan two people who have both hit a significant bump in the road on the same day. Greta (Keira Knightley) has just been broken up with by her rock star boyfriend (Adam Levine) and Dan (Mark Ruffalo) is getting edged out of the record label he created by his partner Saul (Yasiin Bey). We find Dan having left his music journalist wife (Catherine Keener) and rebel daughter (Hailee Steinfeld) for a bad NYC apartment, all he really does now is drink, smoke, and repeat. His life looks all but sunk when he enters a bar to continue his drunken stupor when he meets Greta. Begin Again spends the films first 20 minutes introducing to us how one really crappy day brought these two unlikely friends together. Greta moves in with her street musician friend (James Cordon) and on the first night she goes to a bar and is coaxed to performing a song, during her performance Dan (who is sitting at the back of the bar) has a moment of clarity imagining all the things he could do with his song "It's something I can only do when I'm Drunk" he quips as he tries to get Greta to make an album with him. The connection is strong but it's less about love and more about a kinship, a sharing of ideals and an excellent chemistry between actors.
First and foremost the revelation of Begin Again is Keira Knightley, who has just started moving away from the period films the last few years with roles in Jack Ryan Shadow Recruit and Seeking a Friend for The End of The World. Knightley gives her best career performance in Begin Again as the shattered and slowly coming back together Greta but her best quality believe it or not is her voice. She lends her voice to a number of songs throughout the film and it's her emotion and unbelievable vocals that are an incredible representation of her character. John Carney spends little time before getting to the music and it's the music that quickly becomes this films greatest asset. As for her co-star, Mark Ruffalo is per usual charming, funny, edgy and a perfect voice for Dan.  It is yet another memorable performance for the Oscar nominee who should at least compete for a nomination come awards time. The supporting cast around Ruffalo and Knightley are just as good; James Cordon gives comedic support and is one of the more memorable side characters in Begin Again. Along with Cordon is Hailee Steinfeld (True Grit, Pitch Perfect 2) who plays Dan's somewhat rebellious daughter Violet. Violet spends her time dating older boys and dressing in what only can be considered scantily clad outfits. It's only thanks to Greta that Violet and Dan seem to get back to a close relationship and Violets real gifts emerge.
The biggest question mark for some in Begin Again is of course was the casting of Maroon 5 front man Adam Levine in the role of burgeoning rock Star Dave Kohl. Music has brought Dave and Greta to New York, and it's the business, the Fame, and plenty of friendly faces, that get the best of Dave who throws Greta away. Levine is not asked to do too much, he is asked to act on occasion and his acting isn't great but it doesn't matter because the character of Dave is so well conceived as he turns from the singer song writer that Greta came to love into a micromanaged rock star that changes him. His best scenes come during performing the music; especially a more notable performance towards the end of the film, Levine shows real emotion and his talented vocals come in handy for those moments when all you need is to hear the guy belt out the films main song "Lost Stars". A better supporting role went to CeeLo Green as one of Dan's success stories, a rapper who has yet to forget what Dan did for him. CeeLo's scenes are well-written and well-acted but again Carney doesn't ask too much of The Voice judge and Grammy winner.
Carney's direction is good, even if his script does have one or two plot holes that pop up throughout the film. The idea of using New York City as less of a setting for this story and more as a member of the cast that brings a certain beauty to the films most spirited moments. Having Dan and Greta record the music they make at different places around NYC instead of paying in a recording studio is one of the best story decisions made in Begin again.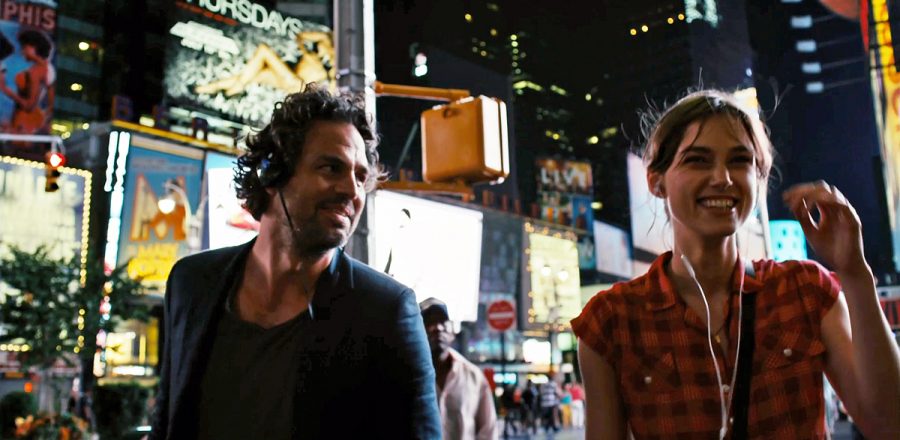 Begin Again is a wonderfully acted film thanks in large part to the work on camera and on microphone from Keira Knightley and Mark Ruffalo. A particularly great soundtrack helps Begin Again get its voice and it certainly could be a movie that at least competes for Award Nominations come January.
Grade-A
Comments
Posted by
YaroslawTalof
on
Aug 9th, 2018
cheapest generic cialis soft
[url=http://cialiscanadalnl.com/]generic cials[/url]
buy canadian cialis
cialis price on prescription
Leave a Reply