The Babadook
The Short- Jennifer Kent took a tiny budget and a simple premise and turned it into the most memorable, thought provoking and terrifying horror film of 2014. Kent takes a struggling single mother and her troubled son and turns it into a beautifully haunting tale with surreal moments that will bring you back to the hay day of the horror genre.
"If it's in a word or it's in a look you can't get rid of The Babadook", these are the fateful words that take Widow Amelia and her son same into the fight against a storybook monster, or is it? Rookie director Jennifer Kent may have created the best horror movie of the year but it's the way she does it that most people are finding so enthralling. The Babadook takes the premise of a widow still struggling to cope 6 years after the violent death of her husband, trying to raise a troubled young boy. The Babadook is less about the titular villain then it is about this mother-son relationship. It shows Amelia trying to hold a job, attempting to move on from her husband's death and trying to raise her son who is so eerily afraid of the not real monsters under his pillow that he inadvertently raises another, or are Amelia and Sam just going crazy? You don't really know and this is how Jennifer Kent's homage to classic horror manages so many naturally scary moments. From its opening shot until the films conclusion, Kent includes Homages to classic horror movies from Alfred Hitchcock and Mario Bava among others and each and every one makes you feel like you are watching a much older film from a much more experienced director.
Kent's surreal moments are made heavier by the wonderful performance from Essie Davis.  Davis an experienced actress with 38 credits to her name including two of The Matrix films, The Girl with the Pearl Earring and Baz Luhrmann's Australia, carries the film as the often times totally overwhelmed and distraught Amelia.  Nothing turns an above average scary movie into something much more than a creepy child and newcomer Noah Wiseman brings that and then some to Samuel. Samuel for one reason or another is struggling to sleep; he is also struggling with what seems to be a very overactive imagination. Sam is convinced there are monsters in his room, under his bed, in his closet, basically everywhere and this causes a lack of sleep for both Samuel and Amelia. This also brings Samuel to get pulled out of school after he (somewhat brilliantly) builds a crossbar that shoots darts, and a catapult attached to his back that shoots a ball. They are well built but they also get him in trouble with his school and ultimately pulled out. It takes nearly an hour of Kents' 90 minute film to get a glimpse of the titular character, Kent forces us to anxiously await his presence and it's that slow burn that makes the film's final half hour a non-stop fright fest.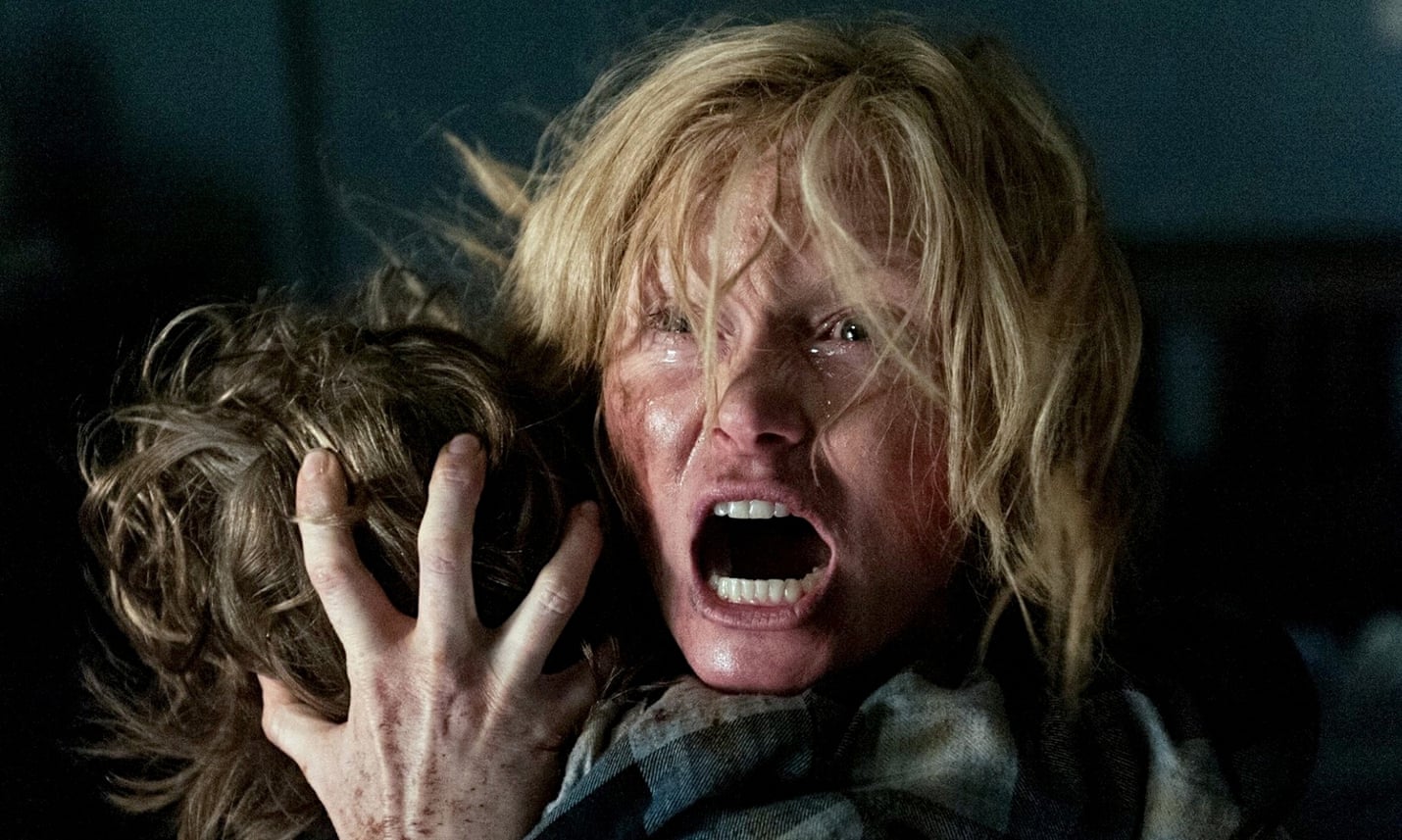 The Babadook might be one of the best movies of 2014; it is also a horror movie that creates new scares almost never reaching for scary moments or using the cliché jump out scares. Kent ups the tension thanks using more natural scares, whether it's upping Amelia and Samuel's bizarrely violent behavior or the fact that the films climactic conclusion takes place within a gray area where as an audience you begin to wonder whether or not it's happening at all. The Babadook shows up with both characters at their lowest and sleep deprived. Kent does not go into the origins of the films bad guy and never even states how and where the storybook came from that unleashed it onto the family. This helps the director to create the tension of Are they being haunted? Or just are they just plain crazy? The Babadook is achievement in indie horror filmmaking with a budget that earned just over $30,000 on Kickstarter. It could go down as one of the best films of 2014, and an incredible horror movie created by a rookie director. No matter how it's remembered The Babadook is one of the year's top shelf movies. 
Grade-A
Comments
Posted by
Robertkes
on
Aug 24th, 2019
I went into "The Babadook" under a kind of misapprehension. I'd heard a bit about the movie—it would have been difficult, as a working film reviewer to not have—but not orally, so I thought that the title was pronounced with a long "o" or even a sort of "u," so it rhymed with "Luke," or, more pertinently, an obscure Italian-American slang word that Robert De Niro uses in " Raging Bull ," that word being "mamaluke." As in, "I look like a mamaluke." "A WHAT?" "Like a mamaluke. Like the mamaluke of the year." Under this misapprehension, I actually underestimated this horror movie, the debut feature written and directed by Australian filmmaker Jennifer Kent .
Leave a Reply